What is the most wonderful thing in the world? A big house? A luxury car? Or something really expensive? If you thing those things are the most wonderful thing in the world, you are incorrect. There are many of these wonderful things around us. Even, this thing also found in our body. Did you know what things are them? This thing was known as the smallest thing in the world beside atom and the others particles, which called
CELLS.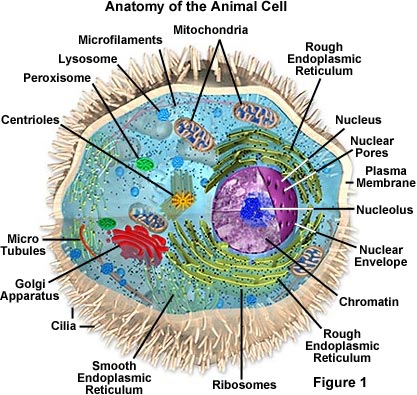 Cells are the smallest structural and functional unit. Cells were identified at the first time when Anthony Van Leeuwenhook made the first microscope. Beside Anthony Van Leeuwenhoek, there is Robert hooke who saw the plants cells of died cork tissues which show rooms that was the cork tissue's cells. This "roomy" appearance has cause these cells called "Cell" which means rooms.

In cells there're many substance from micro molecules and macromolecules and organelles which are really complex. This complexity has amazed many scientists and researcher. this complexity are shown by the nuclear of cells, especially the chromatin filament contains DNA. This DNA also contains genetic code which used for the cells regulation. The complexities were shown by the length of chromatin which longer than 500 meters. This really long chromatin only packed in a little cell nuclear which only has a little diameter (less than 1 mm).

There're still many complexities that shown by cells. For example Mitochondria which also has it's own DNA that different with the cell's nuclear. Mitochondria are organelles those functionate as intracellular respiration place. So, this organelle can be said as the "house of power" of the cell.

Beside mitochondria, there're a lot of other organelles and structures with it's own function in cells. Cell's membrane, a layer that consist of phospholipids, protein, carbohydrate, and the others molecules functionate as divider between the environment in the cell and the environment outside the cell. This membrane is a semi permeable membrane which means this membrane can be passed by certain molecules.
Around the nucleus, There're an organelle called Endoplasmic Reticulum. This organelle connects the nucleus with the environment outside the cell. This organelle divided into two types: rough endoplasmic reticulum which has ribosomes on it. And smooth endoplasmic reticulum which has not ribosome on it. Rough endoplasmic reticulum, together with ribosomes functionate as a place for protein synthesis (ribosomes synthesize the protein and then "send the protein to rough endoplasmic reticulum). Smooth endoplasmic reticulum functionate in many metabolism processes.
Aparatus Golgi is the cell's organelle that functionate as the cell's secretion organelle. This organelle secretize some enzymes. That's why the secretion organs have many apparatus golgi in it.
There're also some organelle that can be found only in animal cells or plant cells. For example Lysosome which used for intracellular digestion. Centrosome help the fission of cell. Both of these organelles can be found only in animal's cells. Plastid functionate as a photosynthetic organelle. This organelle used for "catch" the light energy for photosynthesis process. This organelle can be found only in plant's cell.
Plant's cell has it's own uniqueness. At it's cell's membrane, there's a structure that consist of cellulose which called "Cell's Wall". This Cell's Wall is rigid. So, it can be use as the protector of cell. But, this cell's wall cause the plant's cell can't grow freely.

The most amazing event that happens in the cells is Mitosis and Meiosis. At Mitosis, cell experience six phase to split. Interphase, Prophase, Prometaphase, Metaphase, Anaphase, Telophase and Cytokinesis.

Mitosis is the process by which a eukaryotic cell separates the chromosomes in its cell's nuclear into two identical sets in two daughter nuclei.It is generally followed immediately by cytokinesis, which divides the nuclei, cytoplasm, organelles, and cell membrane into two daughter cells containing roughly equal shares of these cellular components. This process divide the chromosomes into equal amount at each daughter cells.

Meiosis is a process of reductional division in which the number of chromosomes per cell is cut in half. In animals, meiosis always results in the formation of gametes, while in other organisms it can give rise to spores. As with mitosis, before meiosis begins, the DNA in the original cell is replicated during S-phase of the cell cycle. Two cell divisions separate the replicated chromosomes into four haploid gametes or spores.

Both of this wonderful process happens in a tiny cells. Mitosis helps the regeneration of cells, so if some of the cells in a tissue death, mitosis will replace it with the new ones. whereas Meiosis cut the half of chromosomes amount. So, the gamete cells will have normal amount of chromosomes when two of the gamete cells (both sperm and ovum cells) fuse each other (fertilization). Without Meiosis, the amount of chromosomes in organism's descendant body will be twice and become abnormal. So, both of this wonderful process that happens in a tiny cell that is smaller than the particle of dust. These facts have show us about the almightiness of our creator, Allah SWT.